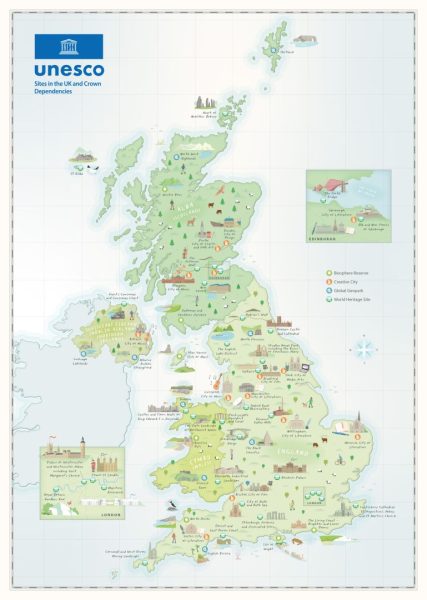 Discover Bristol alongside 57 other unique UNESCO sites in the UK and crown dependencies, thanks to a newly illustrated map, now available to download for free from the UK National Commission for UNESCO.
From expansive mountain ranges and stunning coastlines to vibrant cities and rural landscapes – the UK's UNESCO sites are destinations of world-class natural and cultural heritage.
For the first time a map, designed by creative cartographer Tom Woolley, brings together all of the Biosphere Reserves, Creative Cities, Global Geoparks and World Heritage Sites across the British Isles that are waiting to be discovered.
The new map includes 29 World Heritage Sites, 13 Creative Cities, 9 Global Geoparks and 7 Biosphere Reserves that cover 13% of the UK's landmass.
Most of the sites are free to enter and conveniently accessible by public transport offering the public new experiences to discover UNESCO sites in the UK and mark this summer with a visit to one of the world's most special places.
James Bridge, Chief Executive and Secretary-General of the UK National Commission for UNESCO said: "This new UNESCO in the UK map will inspire people for places to visit. It shows at a glance the breadth of amazing natural, cultural and built heritage designated by UNESCO as internationally significant in the UK. This great map highlights places to explore, on your doorstep and further afield, both the famous and those to discover for the first time."
The map was produced by the UK National Commission for UNESCO as part of its Local to Global project, made possible with the GREAT Campaign and The National Lottery Heritage Fund, with thanks to National Lottery players. Local to Global aims to develop a resilient network for UNESCO Designated Sites in the UK.
The map can be downloaded at: https://unesco.org.uk/our-sites