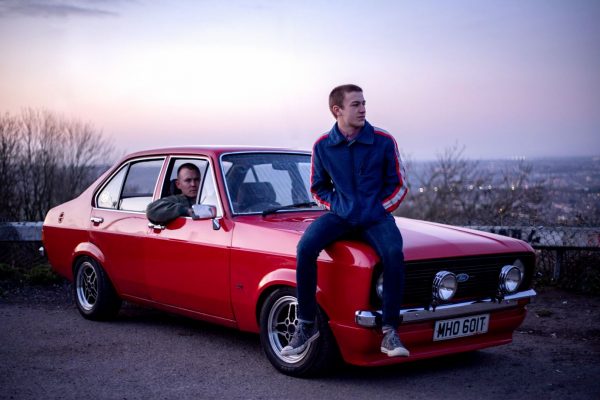 As filming wraps on upcoming Bristol-made feature The Fence, the original short film (which won The British Lion Award for best achievement on a low budget at the 2018 British Independent Film Festival) has just topped a staggering 4.3 million views on YouTube. We caught up with writer/director William Stone who told us about making the feature and why he wanted to tell a Bristol story that will resonate with audiences.
Congratulations William, on finishing filming for The Fence! Tell us about the film?
The Fence is a feature length adaptation of a very popular short film I made with the same name. To date it has had over 4 million views online and has been generating a small but ever growing community around it. The film is based on a multitude of true life stories from people who grew up on council estates in the 1980s. It's mainly inspired by my Dad's upbringing in Hartcliffe during that time and follows a story about a lad who has his motorcycle stolen the day he buys it.
The Fence has strong moral themes examining cultural and peer pressures related to difficult individual choices. But ultimately, it's a fun film with heart, that combines nostalgia, comedy and a fast-paced narrative. Not to mention a great soundtrack of 80s music!
Tell us about the talent you have in front of and behind the camera?
Most of the talent in front and behind the camera were locals, usually between the age of 20 – 30. So it was quite a youthful gang headed by myself (26), my Director of Photography Adam Pickford (26) and Co-Producer Guy Davies (30). We had a massive cast, close to 60 speaking parts, lead by David Perkins who played Steven Knight in the original short film. It was the first big opportunity for a lot of our young actors. However we were very fortunate to attract some genuinely experienced actors with credits such as Dunkirk, Bridget Jones  and Game of Thrones. I'm not currently allowed to name some of our cast, but I'm delighted to say that I had the local help of known actors such as Joe Sims (Broadchurch) and This Country's Paul Cooper.
What were the best moments and biggest challenges during filming?
It's all still a bit of blur to me! But I can say that the best moments for me were when scenes turned out much better than I thought they would. Some scenes had a lot of actors in at one time, including one scene with six characters and all three of our big hitters giving it their best, and it was a really energised couple of days shooting those scenes. In terms of challenges, it was all very challenging. To make a film like this on a tiny budget is almost crazy to tell the truth. Cars, motorbikes, 50 locations and over 60 actors, all of which need to be period accurate! As a first time 'indie' film made for some very long days that were never short of tight calls and tough spots. I think I could single out the night shoots as particularly challenging just because of how awkward they can be for everyone's body-clocks; and they usually involved quite heavy stunt work which was always demanding of cast and crew.
Give us an idea of your career so far. What are your ambitions for the future?
It's hopefully just beginning! I graduated Film School (Bournemouth University) back in 2017 with my film partner Adam Pickford, and have since been taking every opportunity to make our own material. By the end of 2019 we had completed six short films together and really felt it was time to take it up a notch. The Fence (2018) was our most popular short film and seemed the perfect vehicle. As for my future ambitions, I would love to continue making feature films, I have plenty of ideas I'd like to explore. It's been three years since I released the original Fence and trying to get it made has been a huge part of my life/focus ever since. It will be nice to eventually move onto a new topic, with a whole new set of challenges. But I guess for that to happen this film needs to do well, and I believe whole heartedly that it's something special, like the original proved to be.
What does being based in Bristol mean to you?
A great deal, it means a lot to me. Everything seems to be set in London, including a lot of stuff that's filmed here in Bristol. I'm from here, so why wouldn't I set the film here and make it about Bristolians? I remember debating how important it would be that the characters spoke with south west accents, deciding it was definitely necessary. Too often I think us 'west country folk' are the butt of the joke and our voices are played for laughs. I thought if I could actually make something that people took quite seriously, even for just a second, despite the accents, then that would be quite the achievement, and something worthwhile.
Now you've wrapped, what's next?
We need to get the film finished to the highest possible quality. The film still needs to be edited and accompanied by a great soundtrack; both of which can cost a great deal. We independently raised enough money to shoot the film, but do not currently have quite enough to finish it. It was always part of our plan to run a crowdfund for the film at this stage, which is now live! To get the film finished we'll need as many people as possible to donate. Any amount will go a very long way. After the crowdfund it's a case of securing a good distribution deal and getting the film into UK cinemas in 2022. I can say we've already been approached by some notable companies who are interested in the film! All the more reason to get it finished to the best possible standard.
To donate to The Fence crowdfunder, which closes on 4 December, visit: http://kck.st/3BQPJwc 
Read more about The Fence here.