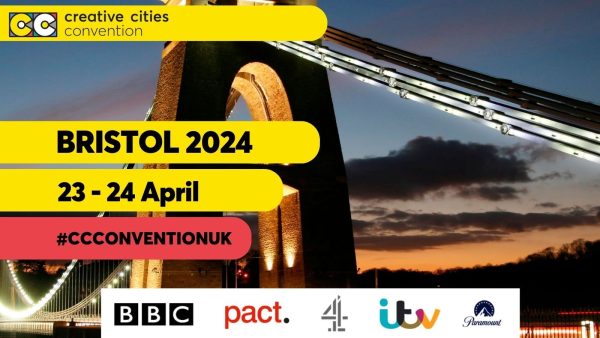 The Creative Cities Convention has confirmed it will be coming to Bristol UNESCO City of Film for 2024!
Super Early Bird tickets for the two-day event, scheduled for the 23rd and 24th April 2024, are now officially on sale.
The 2024 convention promises to be the largest yet, as it moves to the stunning and spacious Bristol Beacon, a venue that will elevate the convention experience to new heights.
The Creative Cities Convention serves as the premier gathering for producers and distributors working in the fields of film, television, and digital media, outside of London. With a primary focus on network TV production, this year the convention will also explore how new artificial intelligence and creative technologies are impacting film, TV and digital production more than ever before.
Announcing the date and venue at the Bristol Screen Summit yesterday, Creative Cities Convention director Ruth Pitt said "We are thrilled to be in Bristol, where a globally recognised production sector is well established. There will be something for everyone attending the conference from across the country to gain from the cutting-edge work underway in the South West and we'll be talking about international as well as home-grown opportunities."
The convention is backed by key stakeholders, including the BBC, ITV, Channel 4, Channel 5/Paramount, and Pact, all of whom have been invaluable partners since the event's inception in 2018. The convention was established as a platform to unite the countless individuals contributing to the rapidly expanding screen sector outside of London.
This year's conference will tackle topics that mirror the swiftly evolving landscape of the industry and the challenges that lie ahead. There will be an emphasis on offering practical support and advice, with more opportunities than ever for delegates to engage directly with experts and service providers, as well as connecting with fellow creatives, international deal-making will be another theme.
The South West is already known as a magnet for creativity and sustainability and incredible work is underway to position the region as a global leader in immersive media. MyWorld is a global centre for creative technology innovation in the West of England, exploring the future of creative tech by pioneering new ideas, products and processes.
Across the UK producers and service providers are working out how to improve sustainability and the South West is no exception. Bristol's Bottle Yard Studios expanded in 2022 and now boasts eleven stages and 154,000 sq ft of film and TV production space across two sites. Its new £12m premium facility TBY2, powered by a 1MWp community-owned solar rooftop array, believed to be the largest of its kind in the UK and one of the biggest PV installations on a UK studio, is attracting global recognition for its achievements in the field of studio sustainability.
Bristol was named a UNESCO Creative City of Film in 2017 and has been a UNESCO Learning City since 2016. Home to the largest independent film and television production sector outside London, it has a long-established reputation as a global leader in natural history and animation, with industry giants the BBC's Natural History Unit and Aardman Animations among its resident companies.
Delegates at next year's conference can anticipate gaining insights into the astounding developments in creative technology and what they mean for their businesses in the real world. The convention will also offer much-needed support and encouragement for struggling independent producers and freelancers, especially in light of financial constraints and limited commissions.
For more information and to purchase super early bird tickets for the Creative Cities Convention 2024, visit https://creativecitiesconvention.com/