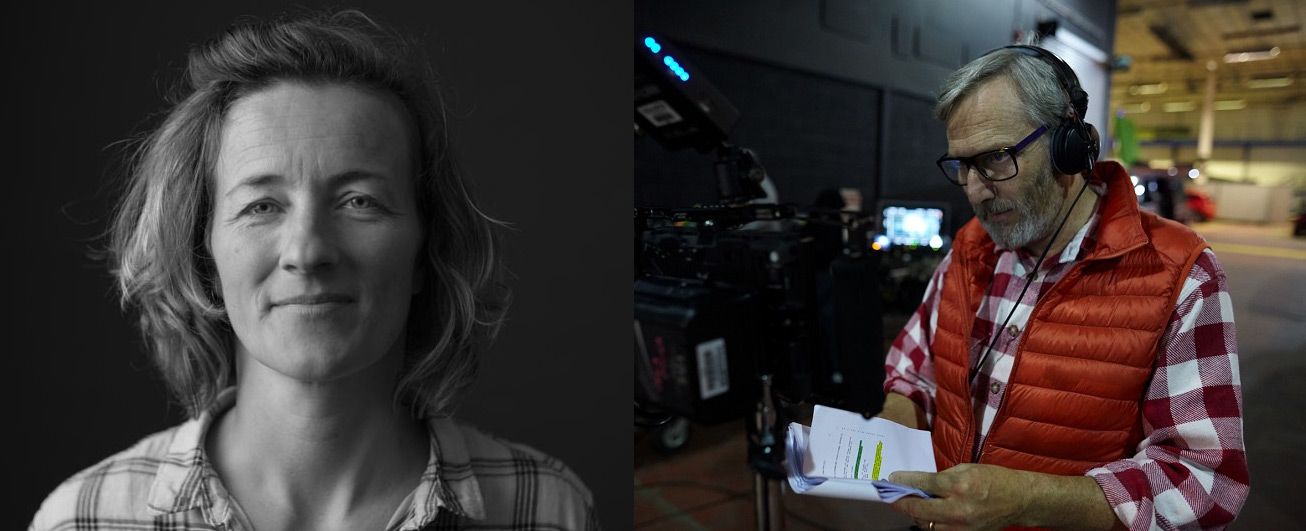 Four Bristol companies have been named as recipients of Channel 4's new Emerging Indies Fund, which supports independent production companies based outside of London to grow by providing financial assistance for slate development underpinned by commissioner commitment from the broadcaster.
Indefinite Films was the only company out of the Fund's 11 core recipients to be selected by Channel 4's drama commissioning team, whilst Drummer Television was selected under the genre of factual.
Discretionary awards were also made to Blak Wave Productions and Proper Job.
Each of the selected companies will now be able to access funding, mentoring and advice from Channel 4's commercial affairs, programming and legal teams.
About Indefinite Films
Headed up by award-winning Director-Producer team Bruce Goodison and Kate Cook (pictured), Indefinite Films focuses on creating thought-provoking stories for film, television and streamers which take extraordinary stories from the real world and seeks to make them compelling for their chosen audience. The company's first title was the 2014's powerful and provocative coming-of-age feature Leave to Remain starring Toby Jones, about the lives of a group of refugee teenagers seeking asylum in the UK. Marking the debut feature film for theatrical release for both Goodison and Cook, Leave to Remain premiered at the 2013 BFI London Film Festival and went on to receive widespread acclaim and seven international awards, with Goodison described as displaying "a sure, Shane Meadows-like touch with his lively unknown leads" (The Guardian).
Goodison and Cook went on to partner on Channel 4's critically acclaimed 2019 drama The Cure starring Siân Brooke and Sue Johnston, the inspirational true story of Julie Bailey, an ordinary woman from Stafford who blew the whistle on one of the worst scandals in the history of the NHS. More recently they partnered on Channel 4's three-part docudrama Murder in the Carpark (2020) which, four years in the making, examined the axe murder of Private Investigator Daniel Morgan in 1987, the most investigated unsolved murder in the history of the Metropolitan Police.
Channel 4's Head of Drama Caroline Hollick says: "We were really impressed by Indefinite's bold approach to finding ambitious ideas for drama. This feels like a good time to support the company as they focus on developing some really original ideas that have heaps of potential for Channel 4. They've also been very proactive in creating a network for talent in the South West, something that is in line with Channel 4's ambition to see more from the nations and regions in out content. We look forward to working with them on their drama developments and also in finding talent."
Bruce Goodison says: "It's a real boost for Indefinite Films to be named as one of Channel 4's Emerging Indies Fund recipients. Kate and I are naturally drawn to tackling challenging subject matter where our central characters face choices that are authentic, but handled in a way that's really eye catching and different. We won't shy away from morally challenging stories from diverse communities. We want to take creative risks with new voices to find the most engaging way to tell true stories. So what a treat to work with some of the brightest heads in TV at Channel 4 who are renowned for championing unheard voices and taking risks."
Kate Cook says: "Bruce and I have worked together for 20 years and we share an ambition to uncover unique stories that have a cultural and social significance – our feature film Leave to Remain was proof of how to work differently and tell the prescient story of child immigration by blending fact and fiction, working with established actors and those who we trained as part of the casting process. Having shot our last two projects in Bristol together, Channel 4's The Cure & Murder in the Car Park, we're excited to have their backing to take Indefinite Films to the next level with a view to producing more narrative content out of Bristol. There is a strong creative talent pool in the city that is growing all the time, so we'll be looking to collaborate with that regional talent, as well as looking further afield and overseas. We look forward to taking our slate forward with the support of Channel 4's Drama department."
About Drummer Television
Drummer Television was founded nine years ago in Bristol by joint MD's Rachel Drummond-Hay and Tamsin Summers. A double BAFTA and multi award-winning company specialising in factual programming, their work ranges from returning series for CBBC and docs for BBC1, BBC3, Channel 5 and Channel 4. Drummer TV's most recent credits include the short drama My Best Friend Married a Warrior for BBC iPlayer, presenter led interview series Getting Personal for BSLBT and Series 3 of Gym Stars for CBBC.
Rachel Drummond-Hay says: "We are absolutely thrilled to have been chosen as one of the Channel 4 Emerging Indies – especially as we were told that our company ethos and long terms commitment to diversity were key parts of the decision, as well as our slate of programme ideas. We also won the Bristol Diversity Award for Diverse Production Company at the weekend so it's been a great end to a tricky year."
Tamsin Summers adds: "We're in development with Channel 4 for a factual series next year and are making an exciting new gardening series and a TX pilot for the world's first quiz show in British Sign Language. We hope that working closely with the Factual team at Channel 4 will enable us to take Drummer to the next level and create some exciting new programmes for 2021."
About Blak Wave Productions
Blak Wave is an independent production company based in Bristol, created by Michael Jenkins and Somina 'Mena' Fombo. Committed to producing film and TV that better reflects our society, Blak Wave aims to give a voice to unheard voices and tell untold stories.
Blak Wave are motivated to create character driven content that is fresh, imaginative and representative. Passionate about literally changing the face of TV and film, they focus on creating entertaining, emotional and compelling stories across documentary, factual and drama. Recent credits include: Shadow of Slavery for Channel 4, We Are Not the Virus and Home Carnival Queen, both for BBC Arts and short live action drama Pickney backed by the BFI – due for release in 2021.
Co-Founder Somina 'Mena' Fombo says: "We're really excited to be selected for this discretionary award from Channel 4, especially alongside a brilliant line up of other companies! It's great to be recognised as an indie to invest in, and we're looking forward to developing lots of ideas and content for 2021!
Congratulations to all the successful Bristol companies!