Today, Netflix launches ten short documentaries backed by its inaugural Documentary Talent Fund. Bristol-based filmmakers Ngaio Anyia and Aodh Breathnach were one of ten teams from across the UK who successfully pitched to receive £40,000 to create their own short, answering the brief: "Britain's Not Boring And Here's a Story".
Their resulting film, TEGAN, will live stream tonight (Friday 17 February) at 7pm, in the UK's first ever TikTok Live Line-Up, available to Netflix's 21.9million TikTok followers (follow HERE). Films will also drop on Netflix's YouTube channel Still Watching on 20 February.
TEGAN centres on inspirational young Bristolian, Tegan Vincent Cook. Categorised by the world as a young black woman with cerebral palsy, we discover her talent and drive as an equestrian, matched with an unbridled dedication to reach the 2024 Paralympics. We caught up with Ngaio and Aodh to find out more about the making of the film.
Congratulations both! Tell us about TEGAN?
Ngaio: "TEGAN is about a wonderful young woman with so much drive and determination and sass and joy, and it's about her trying to make her dream come true, in a nutshell. The byline is that the world sees Tegan as someone with cerebral palsy and puts this label on her that is not necessarily hers. We want to tell her story on her terms and show that she is more than her disability. In this story, we follow Tegan trying to buy a horse to take her to the 2024 paralympics. It's not an easy thing to film, and it became very observational, but shows her incredible spirit and drive.
Why did you want to tell this story?
Ngaio: "The story is one that could either be easily missed or in a binary way – we wanted to tell it in a way that took into account all the different barriers e.g. physical, cultural, class, financial. There is so much that she has chosen to not let get in her way – but the art of dressage is one of the most expensive sports in the world, but it's something that she's incredibly good at. It's about her choosing to be in this space which doesn't know how to handle her as a woman of colour. Also being mixed race myself and living between two worlds, I feel it's very complex – and so I really wanted to be the one to tell this story."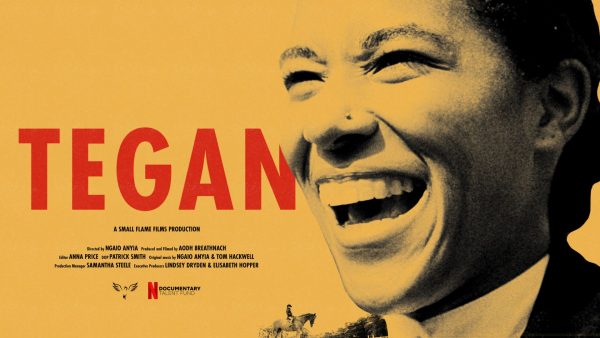 How did it feel being selected by Netflix? 
Ngaio: "Despite it being eight months on now, I still can't really believe it, it's mindblowing. I'm incredibly proud of myself, my team and what we put into it. Aodh is the producer and one of my best friends, and we set up Small Flame Films together. It's been such a joy to be able to work together, as we've wanted to for a really long time.
"It's also been great being able to connect with new people – very mindful that any opportunities, e.g. project manager, poster designer, score composer were all aimed at people from outside of the industry who would not usually be given these platforms, this really paid off.
"The support has been incredible. It's shown me what all the elements are that go into making a documentary. I never would have thought that 12 minutes would take up my entire life, but everything we had to do came with advice, a template and support. Our mentors from Netflix (Lindsey Dryden) and WDW (Elizabeth Hopper) were so instrumental in feeling supported. It's one thing giving people a pot of money and just saying good luck, it's another to say "we know this is scary, we know you've never done it before, here are some things to look at." It's so important in an industry that can be so terrifying from the outside."
Tell us about the shoot. What were the challenging and joyful moments?
Ngaio: "We filmed for ten days in total. Mainly at Tegan's coach's arena in Long Ashton, also at Tegan's home in Fishpool Hill and the Solihull Equissage Pulse Bronze and Silver Summer Championships competition."
Aodh: "A joyful moment for me was at the Solihull competition. Partly, it was my first time filming around horses and I just realised what lovely, calming animals they are, but also seeing Tegan 'just being Tegan'. She of course won all her championships; it was her first time ever competing at silver, and she won.
"Also our first day filming with Tegan and her mum Sylvia. It was only a very short bit of filming in their kitchen talking about Tegan's letter to Lewis Hamilton, which didn't even make it in in the end, but that was about establishing how rest of the shoot would go, establishing a safe space. The main challenge was whether Tegan would actually find a horse and being able to capture that moment of Tegan meeting horse; access was quite tricky in different ways."
Ngaio: "Another joyful moment was the day we had Patrick (DOP), Sam (Project Manager) and Mena (camera assistant) with us – it was an example of bringing new people into the space, and also it just felt most like a shoot day. Everyone was so happy, everyone was hugging each other, and the day just ended with so many laughs and smiles."
Did many local crew work on your film?
Ngaio: "So we had Mena Fombo, our camera assistant; Mercedes [White], our general assistant. Actually, pretty much everyone was from the south-west – that was important to us. The picture is about Bristol and also about diversity, so we wanted to reflect that in people in the space. It was predominantly women of colour on the shoot days – and everyone was so happy, it made Tegan really comfortable. It just goes to show that these people are out there, we just need to reach out to them.
What are your hopes for TEGAN?
Ngaio: "My only hope for the film is that Tegan loves it."
Aodh: "I hope it will allow us to create discussion about who can take part in sports, both horseriding and in general, and in all industries really. I'd also like to be able to use this as a way of putting on another event after this, also maybe some film festivals, and as a platform to spark conversation."
What are you working on next?
Ngaio: "My inclusion and diversity consultancy, my writing, my DJing, music, a bit of everything!"
Aodh: "A Sky documentary series on young people in London trying to get into pro football; and then a BBC Three series later in the year."
What does being based in Bristol mean to you?
Ngaio: "Activism. Activism, and using creativity to push boundaries and spark discussion. It means being a part of this melting pot of different cultures. I was born in Harlesden, London, and moved to Wales aged 10 and then Bristol. I feel like I'm a Bristol girl at heart. I've got lots of different hats in terms of what I do: I've worked as a director, a DJ, a consultant for diversity and inclusion within the arts industry, and a musician."
Aodh: "I'm originally from Ireland, and I lived in North Devon and London before moving to Bristol. I'd say in the south-west, we grow up with less on doorstep than in there is in London; but at the same time, everyone knows each other, so it's very collaborative and connected. So yes, collaboration and activism I'd say."
Watch TEGAN via the live stream tonight (Friday 17 February) at 7pm on Netflix's TikTok platform HERE. Films will also drop on Netflix's YouTube Channel Still Watching on Sunday 20 February, 2pm.