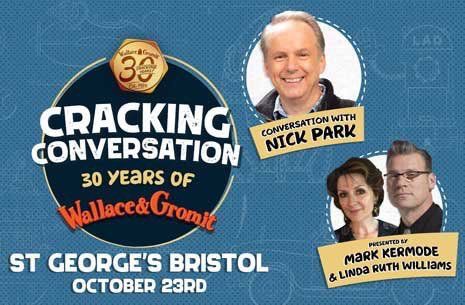 It's hard to believe that it's been 30 years since the characters Wallace and Gromit were first shown on our screens.
After that appearance in A Grand Day Out in 1989, the intrepid duo have starred in The Wrong Trousers (1993), A Close Shave (1995) and A Matter of Loaf and Death (2008), as well as their first feature film — Wallace & Gromit: The Curse of the Were-Rabbit (2005).
Wallace & Gromit are internationally celebrated, winning over 100 awards at festivals – including 3 Academy® Awards and 5 BAFTA® Awards.
On 23rd October, Wallace & Gromit creator Nick Park sat down for a special interview with film critic Mark Kermode and Professor of Film Studies at Exeter University Linda Ruth Williams at St George's Bristol.
Featuring clips from the films, behind-the-scenes footage and special guests, Nick described what inspired him to create these characters, what he sees as the milestones that made them the national treasures they are today.
Listen to the full interview on the Kermode on Film podcast here: https://play.acast.com/s/kermodeonfilm/-53-marktalkstolegendaryanimatornickparkonthe30thanniversaryofwallaceandgromit
'Cracking Conversations: 30 Years of Wallace & Gromit' was a Bristol Festival of Ideas event presented in partnership with Aardman, St George's Bristol and Bristol City of Film.