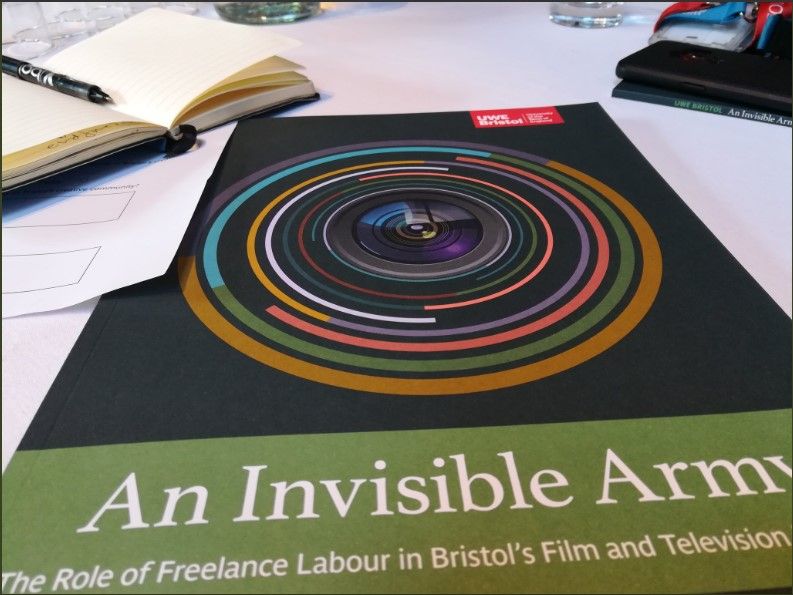 Dr Amy Genders' new report, 'An Invisible Army: The Role of Freelance Labour in Bristol's Film & Television Industries', examines the role of the self employed in this sector and how their contribution could be better recognized, valued, supported and enhanced.
Launched at Watershed on 30 April 2019, it explores a range of topics including barriers to entry, diversity and equality, challenges facing women in freelance work, potential impact of Brexit on the freelance workforce, the push-pull between Bristol and London, and the idea of Bristol and Cardiff as a 'western powerhouse'.
The report states:
"Although freelancers are central to the creative industries, their contribution to the creative economy is statistically invisible and poorly recognised. According to Creative Skillset, in 2015 89% of all workers in the film production sector and 52% of those working in independent TV production in the UK were freelance. Freelancers constitute an occupational group of highly skilled, responsive, resilient and creative individuals, and form a significant component driving innovation and creativity that are crucial to the creative industries. They contribute to both local and national creative economies through their responsiveness to new ideas, and freedom from contract-based habits and ossified practices.

"But while, in some respects, freelancers are characterised as nodes of creativity who exist outside the formal habits and frameworks of employment, they suffer from significant constraints that impede their ability to contribute to innovative and creative practices. This report seeks to analyse and address their contribution to the creative economy, specifically the film and television industries in Bristol, and how that contribution might be better recognized, valued, supported and enhanced."
An Invisible Army' is a UWE Bristol report backed by RTS Bristol, Creative England, Creative Skillset, Bristol Media and Invest Bristol and Bath. It follows 'Go West! Bristol's Film and Television Industries' (2017) by UWE's Andrew Spicer and Steve Presence, which informed Bristol's bid to become a City of Film.
Download 'An Invisble Army' here.