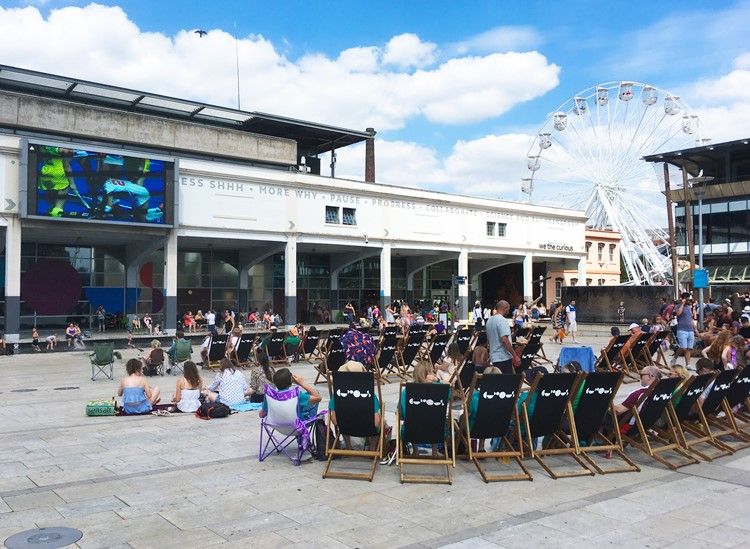 Educational charity and science centre We the Curious has announced the arrival of a new Big Screen on Bristol's Millennium Square.
Supported by Toshiba, in partnership with NEC Display Solutions and powered by 100% renewable energy, the new screen is installed at the end of June and launches at the end of July. Higher definition and better sound quality will mean vastly improved and more accessible viewing experiences for audiences including those with visual and hearing impairments.
The screen, previously known as Big Screen Bristol, has been part of the city centre since 2008. Once owned by Bristol City Council and handed over to We The Curious in 2016, it has become an integral part of the charity's programming and events, attracting thousands of people each year.
In its prime position on Millennium Square, the screen is an important resource for the local community to showcase film, video, art, interactivity and events. It has enabled We The Curious to build closer working partnerships with charities, local schools and engage with Bristol's film and media industry.
Emily Bull, Creative Producer at Creative Youth Network said: "Creative Youth Network have worked with the team at We The Curious to enable artwork and the stories of young people to be shared on the Big Screen. We've shown clips of productions, films, and insightful pieces that help raise the voices of young people in Bristol. The plan to work even closer together with the instalment of the new screen is even more exciting as we're looking at developing better and more ways to amplify the voices of young people, which very often go unheard."
Natalie Moore of Bristol UNESCO City of Film said: "It's fantastic news for Bristol that the public will be able to enjoy an even better visual and audio experience on a new and improved screen. As well as special event screenings, the Big Screen, provides a valuable platform for local filmmakers, animators and documentary makers.''
Sean Clarke, Managing Director at Aardman said: "It's fitting that Bristol, a city of film, should have a top community resource for screening inspiring content to its people. It's wonderful to hear that We The Curious is able to provide a more environmentally friendly and accessible Big Screen for Millennium Square. We are proud to have screened our productions here for both locals and visitors alike over the years, and it's good to know that these stories will now be enjoyed by an even more diverse audience."
Alexis Hobson, Big Screen Producer said: ''We have worked together with Toshiba over the past year and are so excited to be able to offer the public a new screen, enabling us to bring more free events, higher quality film screenings and a better community resource to We The Curious and the city.''
We The Curious will be reopening its doors to visitors soon. Whilst the science centre itself is temporarily closed, audiences can find new activities online to spark their curiosity at home. Big Screen events are expected to restart in the Autumn, coinciding with the launch of Project What If, a bold new exhibition based entirely on questions asked by the people of Bristol.
The Big Screen is looking forward to a busy 2021 when the new screen and Millennium Square will play host to the Olympics, free film screenings and a rich, diverse programme of community led content.
For more information visit wethecurious.org/news/bigscreen.