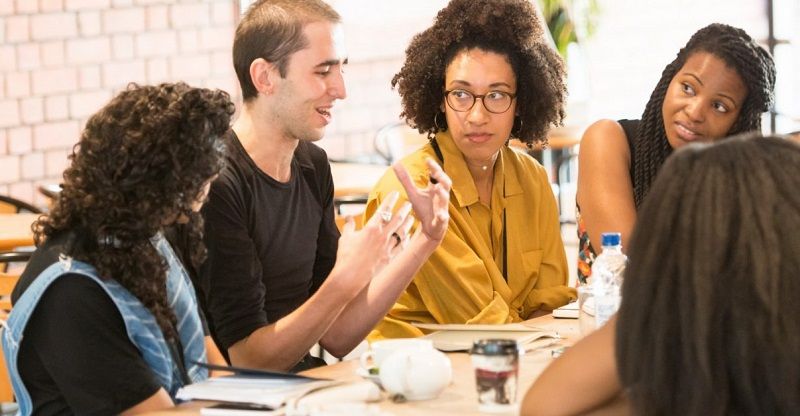 In 2019 we lent our support, in partnership with ScreenSkills, to Widening the Lens. This free, three day workshop run by Encounters Film Festival, provided 70 short filmmakers from underrepresented groups with talent, skills and professional development.
Widening the Lens aims to improve diversity within the film industry by increasing opportunities for underrepresented filmmakers at an early stage in their career, in particular by sharing knowledge and developing skills around the 'business' of film.
12 sessions covered everything from pre-production, funding opportunities, production hurdles, collaboration and networking, to exhibition, festival strategies and personal development and confidence building.
Session highlights:
Keynote speech by Col Needham, founder and CEO of IMDb
Masterclass with Toby MacDonald, who discussed his path from shorts (Je t'aime John Wayne, Heavy Metal Drummer) to his first feature, Old Boys, which premiered at Edinburgh Film Festival last year
Old Boys screening followed by Q&A with Toby MacDonald, actor Alex Lawthor and writer Freddy Syborn
BFI Network shorts screening, providing insight into what a BFI-funded short could consist of
BFI Network panel featuring Q&A with regional talent executives Alice Cabanas (South-West) and Alice Ramsey (North),  Caroline Cooper-Charles (Scottish Film Talent Network) and Alice Whittmore (Ffilm Cymru), looking at current requirements for a funding bid and other available opportunities
Masterclass with writer/director Marley Morrison and producer Michelle Antoniades, who founded Hazey Jane Films in 2013 with a focus on creating video content for grime and urban music artists
If Beale Street Could Talk (dir. Barry Jenkin) screening followed by film discussion
Masterclass with BAFTA winning producers Kate Byers and Linn Waite (founders of Bristol production company Early Day Films), fresh from their visit to the Berlinale where they presented the only UK film selected for the Forum, Mark Jenkin's Bait
Festivals panel with Rich Warren (Encounters Director), Gaia Meucci-Astley (Encounters Short Film Programmer) and Kieran Argo (Encounters Animation Programmer), designed to demystify the festival circuit and demonstrate benefits of exhibition for talent development
Read more on the Encounters Film Festival website.