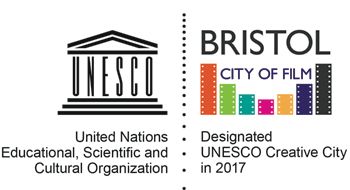 On 31 October 2017, the Director-General of UNESCO confirmed that Bristol had succeeded in its bid to join the likes of Sydney, Galway, Rome and Bradford as a City of Film.
We take a look back on some of the reactions from the city:
"This is fantastic news and a ringing endorsement of Bristol's position as a world leader in film production, education and training. Our reputation as a diverse and creative city has long helped to attract productions and talent across film, TV drama, animation and of course natural history. I hope this recognition will be a catalyst for bigger opportunities for the city and Bristolians to showcase Bristol as a centre for film.
"Bristol's cultural sector is a diverse industry that plays an important role in breaking down the barriers inequality creates. Our ambition is that the education, training and employment opportunities developed by the sector will benefit all communities across Bristol and being named as an UNESCO City of Film is a step towards meeting this goal." Mayor of Bristol Marvin Rees
"UWE Bristol is delighted that Bristol has been invited to join the network, as one of the three partner universities involved with the bid. Bristol is a centre of excellence in film training and education, with world-leading undergraduate and postgraduate film degrees in film and television, the Old Vic Theatre School, as well as colleges and community centres offering informal learning opportunities." Professor Jane Roscoe, Executive Dean, Faculty of Art, Creative Industries and Education, UWE Bristol
"As a filmmaker, educator and passionate Bristolian, it's great that the city has been recognised not only for its strong production base, its vibrant film culture and strong educational provision, but also for our ambition in making film a vehicle to enhance the future development of the city. We can't wait to get going on our action plan and for Bristol to collaborate with and learn from other cities in the network." Dr Charlotte Crofts, Associate Professor of Filmmaking, UWE Bristol
"This is a great result, we warmly welcome the recognition that UNESCO City of Film status will bring to Bristol, a city with film and TV production at its core. In recent years The Bottle Yard has attracted new attention from producers at home and abroad, providing fresh opportunities for the local industry, but it's also important to note that the longevity of Bristol's filming heritage is testament to its outstanding specialist workforce. These talented experts help this sector stand out as an essential cornerstone in Bristol's cultural and economic success. This new status will raise Bristol's profile on the international stage even further. It will bolster our reputation as a city that offers the full package of support and really understands the language of filmmaking." Fiona Francombe, Site Director, The Bottle Yard Studios
"This is fantastic news for both Bristol and Manchester [also named a UNESCO City of Literature] and recognition of their global significance to film and literature. This UNESCO designation will enhance their reputation around the world and help forge strong partnerships with other nations." John Glen MP, Parliamentary Under Secretary of State for Arts, Heritage & Tourism, Department for Digital, Culture, Media & Sport
The announcement followed a bid process that began in 2016. Bristol's application was put together under the guidance of the City of Film steering group supported by leading lights from the city's film and TV sector, including Watershed, Knowle West Media Centre, Calling The Shots, Aardman Animations, BBC Bristol, Encounters Festival, Bristol Festivals and many more.