Last Autumn, Bristol City of Film turned five.
That's five years since our City of Film designation was announced and Bristol became part of the UNESCO Creative Cities Network (UCCN), a worldwide group of creative cities working together towards a common mission for cultural diversity and sustainable urban development.
This unique and respected status belongs to the city, and to everyone working in it across the wide range of disciplines connected to film and the moving image; whether their activity relates to experiencing, making or learning about screen content of all kinds.
Every four years, Bristol is required to submit a Membership Monitoring Report that showcases our impact to the UCCN and illustrates how the work of our partners across the city is attuned with UNESCO's ethos and the UN Sustainable Development Goals (SDGs).
Our first four year report has now been ratified by the UNESCO Secretariat, and we're proud to be able to share it here with our partners and supporters.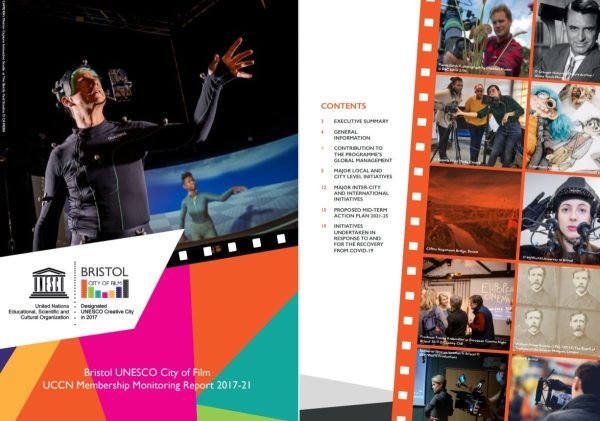 Download Bristol City of Film's 4 Year Report for UNESCO
In it you'll find highlights from the first four years of Bristol's designation, ranging from local and city-level initiatives to intercity and international projects, plus an overview of the film and moving image sector's response to the challenges of the pandemic.
You'll also find an overview of our current action plan, focused on building on our progress to date:
to improve access to training and employment for underrepresented local talent;
to align the film and moving image sector more closely to Bristol's wider environmental aims;
to showcase and share new voices from our city; and
to build further global connections through film.
To find our more or to get involved, please get in touch!
"With its rich cinematic legacy, cultural assets, physical infrastructure and human resources, Bristol has been carrying out various projects and initiatives in line with the philosophy and vision of the UCCN in education, industry, culture and especially the environment. In addition, it has been promoting policies and activities related to cinema and culture for social inclusion of diverse classes such as refugees and people of colour. Also, the city uses the Covid-19 pandemic as an asset to adapt the strategy of the city in a better way in the film field and to move forward."
Bristol City of Film Membership Monitoring Report Evaluation, UCCN Secretariat